Welcome!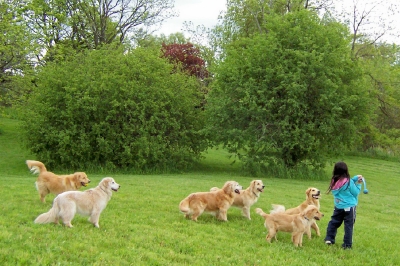 Hi!  My name is Celeste Frohm and I welcome you to Starrdust Goldens and Havanese!  We are located in Pittsford, NY just outside of Rochester, New York. Our family lives on 9 acres and consists of myself and husband, Mark.   Children Jeff , Aaron  and Rachel are all grown up!  We share our lives with 4 Goldens, and 5 Havanese.
I grew up with Golden Retrievers and started training and showing them in obedience when I was 12 years old.  In 2008 I decided I wanted to look for a small breed dog that I could have some fun with!  I didn't want a yappy, nippy breed-what I really wanted was a Golden Retriever in a small package.  After much research and talking to breeders I decided on the Havanese breed.  In August 2008 our beautiful Capri joined the family and we have not been disappointed!
I have been breeding Goldens since 1987 and Havanese since 2011. I am a member in good standing of the Golden Retriever Club of America, the WNY Havanese Club and I am an AKC Breeder of Merit.  I am a small scale, serious hobby breeder, dedicated to the wonderful Golden Retriever and Havanese breeds.  My breeding program stresses temperament, trainability and intelligence.  We usually have 1-2 litters available per year.  Our puppies are raised in the house and receive lots of handling and socializing with kids as well as adults.  They are exposed to a variety of noises, sights and experiences before going to their new homes. We give our puppy families lifetime support, guidance and insight.  We feel that breeding is a total, lifetime committment to these wonderful puppies and their families.
Please browse through the site.  Items will be added regularly.  And if you have any questions, please email or call.